Akihabara, Tokyo's unapologetic otaku culture epicentre, is known for themed cafes and, especially is the home of Japan's maid cafes. Maid cafes are inspired by moe, or the emotion of love for adorable anime characters. Waitresses at Akihabara's maid cafes dress up in adorable maid uniforms and treat their customers as masters or bosses, depending on the cafe's theme. The maids welcome their masters and offer adorable sweets such as parfaits, as well as tasty meals with adorable designs. Omurice, a fried rice-filled omelette typically adorned with a ketchup painting or a charming handwritten greeting, is a maid café favourite.
For their visitors, the maids may even perform a song or dance routine. In most Akihabara maid cafés, there is a sitting fee that must be paid even if the visitor does not purchase anything, and there is typically a time restriction of thirty minutes to an hour and a half. You are really spoilt for choice with so many maid cafés to pick from, each with its own distinct motif.
Here is a list of 7 of the best maid cafes in Akihabara, curated by us!
Contents of this publication:
1. Cure Maid Cafe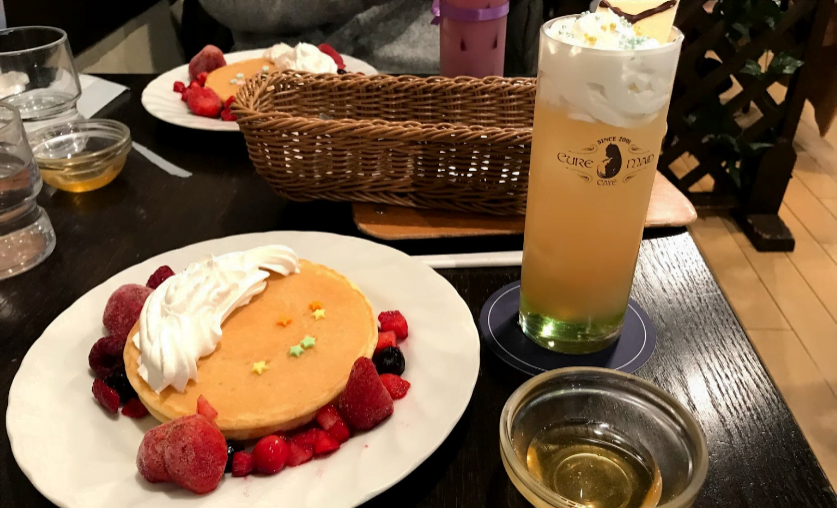 Cure Maid Cafe was the first maid cafe in Akihabara. Cure Maid Cafe's adorable servers wear the traditional prim and proper Victorian-style maid costumes, setting it apart from other maid cafes in Akihabara with its Victorian-inspired motif. Cure is calmer than other maid cafes, allowing you to spend more time with the servers. They also don't charge a sitting fee, which is a big advantage.
The cafe serves a combination of Japanese and European cuisine in its meals and beverages. Their wide menu includes various kinds of sausages, coleslaw, and fish and chips, in addition to Japanese curry, fried cutlets, and omurice. Cure Maid Cafe's distinctive selling feature is the European-inspired experience, not simply the attractiveness of the cafe.
Cure Maid Cafe – Location
2. MIA Cafe (Maid in Angels Cafe)

The maids of MIA Cafe, which stands for "Made in Angels," are kind, attentive, and, of course… heavenly!. Here you can enjoy a piece of rich and creamy New York cheesecake while drinking a cappuccino. You may also pick from a variety of savoury options such as curry or hamburger steak. You may have your favourite maid create an adorable ketchup character of your choice if you select to eat omurice. You may play card games with the waiters and even get a hand or shoulder massage if you so want.
It's a soothing experience that will make you feel like a king or queen! On Wednesdays, the waiters dress up in high school girl costumes and offer their special menu, which includes a stack of pancakes with chocolate sauce drawn on top. Take a commemorative polaroid picture as a memento afterwards.
Maid in Angels Cafe – Location in Akihabara
3. Maidreamin
Maidreamin is the place to go if you want to be in a cheery, upbeat environment. Everything and everyone is adorable, vivacious, and cheerful. The waitresses here are famous for saying, "Welcome home, Master!" to their customers. They sing, dance, and use ketchup to make adorable drawings on your food. They'll also recite a charming spell over your dinner to ensure that it'll be tasty!.
Maidreamin presently has sixteen locations, not just in Japan but also internationally. Each location has its own concept and decor, such as the "Akihabara Live Restaurant Heaven's Gate," which includes a stage where your favourite maids will perform.
Maidreamin – Location in Akihabara
4. JAM Akihabara
JAM Akihabara is the place to go for a more casual maid café experience. Unlike several other Akihabara maid cafes, this one does not charge a sitting fee, and there is no need that you buy something from the menu simply to enter. It's a laid-back cafe where you may remain as long as you like and, as an added bonus, there's free WiFi!.
Delicious lunch packages are also available at JAM Akihabara at a very affordable price. They also provide omurice (covered with charming ketchup drawings, of course), Japanese curry, and several varieties of waffles and pastries. Guests return to this modest and lovely cafe because of the reasonable rates, relaxing environment, and adorable servers.
JAM Akihabara – Location
5. Akiba Zettai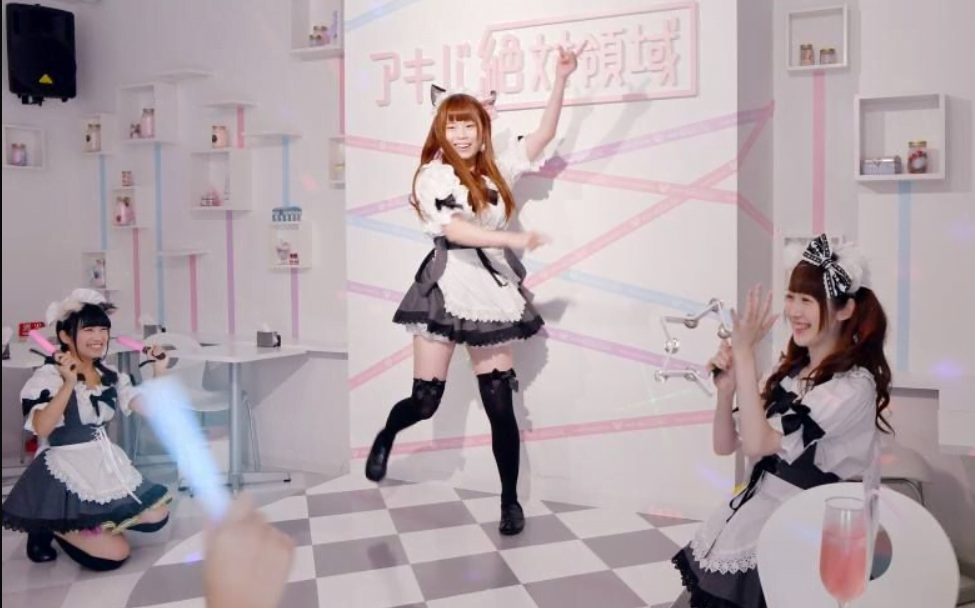 Another vibrant and fun maid café is Akiba Zettai, which has a very unique theme: cats. The servers are dressed in traditional maid attire, but with cat ears and cat-like demeanour to match! Guests may also wear adorable cat ears while speaking with the waiters and playing games with them.
The menu, of course, is cat-themed, with delicacies such as Japanese curry with a cat-shaped portion of rice and a towering chocolate parfait topped with a cat brownie. They also serve incredibly cute pink ramen made with natural ingredients and coloured bubblegum pink. This is the ideal location for cat lovers who wish to see a different side of Akihabara.
6. Mononopu ("Warring States Maid Cafe")
Mononopu is the ideal combination of heritage and style. Guests are invited to dress up as princesses and noblemen at this Sengoku-themed maid café, while waiters wear frill-embellished kimono-style shirts. Because Monopupu is both a bar and a café, customers have a wide variety of drinks to select from, including beer, plum wine, and shochu. They also have "nomihoudai" (all-you-can-drink)!.
This café also provides great pasta and sandwiches in addition to traditional Japanese cuisine. It's a fantastic location to meet new people, and you can even take pictures to remember your visit.
Mononopu – Location in Akihabara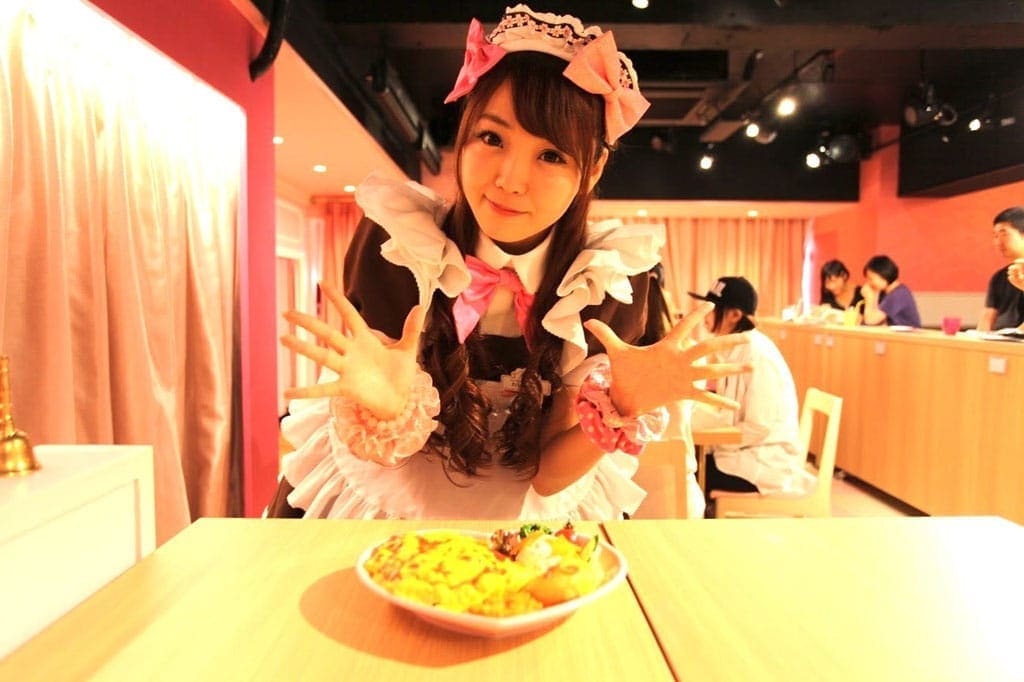 @Home Café is perhaps Akihabara's most popular maid café. It really has two locations: the Akihabara Don Quijote is on the fifth floor, while the main branch is down the road. There are four levels dedicated to the experience at the main location, and there is usually a queue of people waiting to get in.
As soon as you go into the café, you will be greeted by a group of young, attractive females dressed as maids. They refer to you as "master" and "mistress", and they treat you accordingly. They offer English menus, and some of the maids are also fluent in the language. If you don't have a membership card, you'll have to pay a table charge.
The cuisine is excellent, in addition to the maid experience. They like creating faces with sauces and make drawings with sprinkles on your table. Each floor is decorated differently, and the maids on each floor are equally polite and welcome. @home Café also offers the option of hosting a birthday celebration.
However, there is a one-hour time restriction per table, and you are not permitted to photograph the maids — only the food!
@home Café – Location in Akihabara
That's it!, this is our list of the best maid cafés in Akihabara, Japan. Do you know another one that's is not here? Please share it with us on the commentary box!
Until next post.
Sayōnara (さようなら)