Many travelers go to Japan to shop. If you are an electronics and technology enthusiast, this post is for you as I will introduce you to the best electronics stores in Tokyo, the capital of Japan (a shopping paradise).
Foreign tourists are increasingly interested in purchasing high-quality Japanese electrics such as cameras, audio, rice cookers, toilets, and other items.
So, where can you buy gadgets in Tokyo? Ikebukuro and Akihabara are two well-known electric districts in Tokyo, where competing electronics retailers congregate.
There are five electronics stores in the area. There are no electric items that cannot be found in the two towns, and electronics businesses offer well-stocked stuff at low rates.
Although more and more people are using e-commerce to enjoy online shopping, electronics stores provide extra benefits to you, like test and examine the products closely, also speak with friendly and experienced personnel about your doubts.
Some of the personnel can also communicate in other languages than their native tongues, such as English and Chinese.
Check out our list of the top 5 electronics stores in Tokyo below and get the best shopping experience. Of course, they are all duty-free shops.
Contents of this publication:
1. BIC CAMERA Ikebukuro – Electronics stores in Tokyo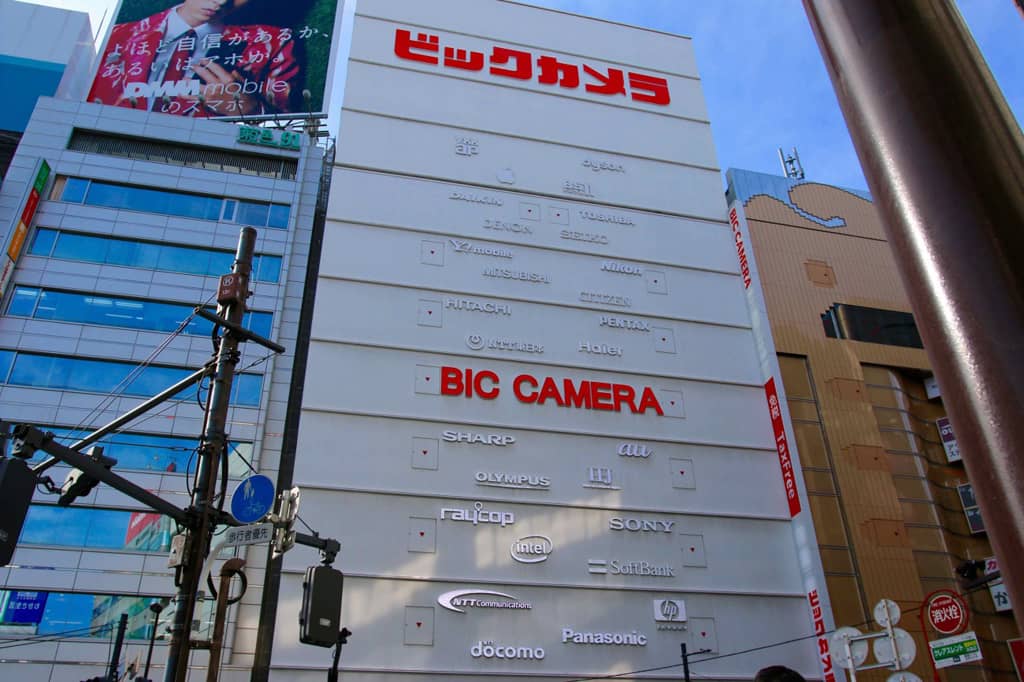 BIC CAMERA is one of the major electronics retailers in Japan, with over 30 locations. Despite the store's name, they sell a variety of electronic items in addition to cameras. The flagship branch, BIC CAMERA Ikebukuro, is located in the electronic mecca of Ikebukuro and boasts 9 floors with various types of electronics on exhibit.
The computer-specialized BIC CAMERA Ikebukuro PC Store and the cheap BIC CAMERA Ikebukuro East Outlet Store are two more BIC CAMERA establishments in Ikebukuro.
You won't have to worry about carrying your purchases throughout your trip because they offer delivery services to the airports from which you depart.
Location: 3 minutes from the East Exit of Ikebukuro Station. See more
2. Yamada Denki LABI Ikebukuro – Electronics stores in Tokyo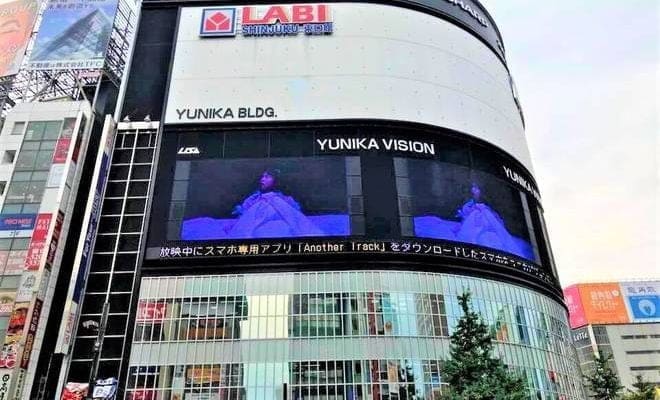 Yamada Denki is the market leader in electronics sales, with 700 shops across Japan. Yamada Denki LABI Ikebukuro, as well as BIC CAMERA, are located in the heart of Ikebukuro. The two top retailers are positioned next to each other and provide items at very low prices.
They sell various gadgets from B2 to 7th level, including health and wellness goods, PCs, cameras, music, video games, and other cosmetics. Because the floors are color-coded, it's simple to find what you're looking for.
Location: 3 minutes from the East Exit of Ikebukuro Station. See more.
3. Yodobashi-Akiba – Electronics stores in Tokyo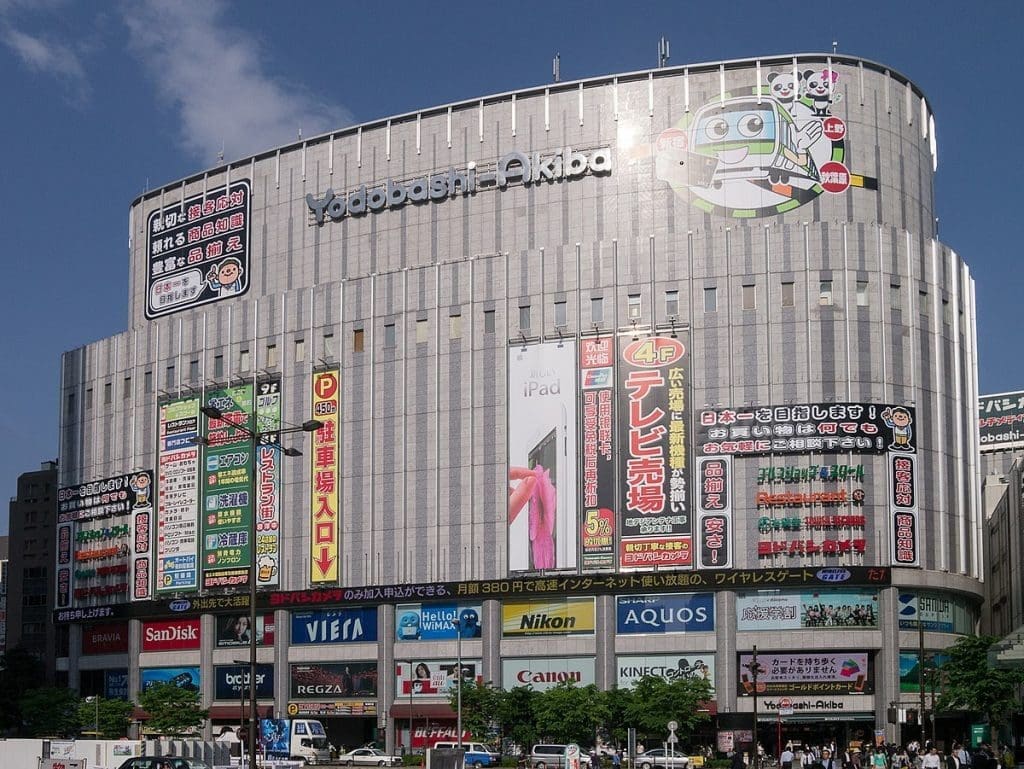 Yodobashi Camera is a well-known electronics store. Yodobashi-Akiba, their largest branch shop, is located in Akihabara.
Yodobashi-Akiba is an iconic landmark in Akihabara, located in front of Akihabara Station. Here you will find from PCs, tablets, cameras, audio, and other technological devices to brand fashion items and wristwatches, books, and restaurants, they have virtually everything on their 7 levels. Also, you'll find money exchange machines.
Location: 1 min from Akihabara Station Central Exit. See more.
4. Edion AKIBA – Electronics stores in Tokyo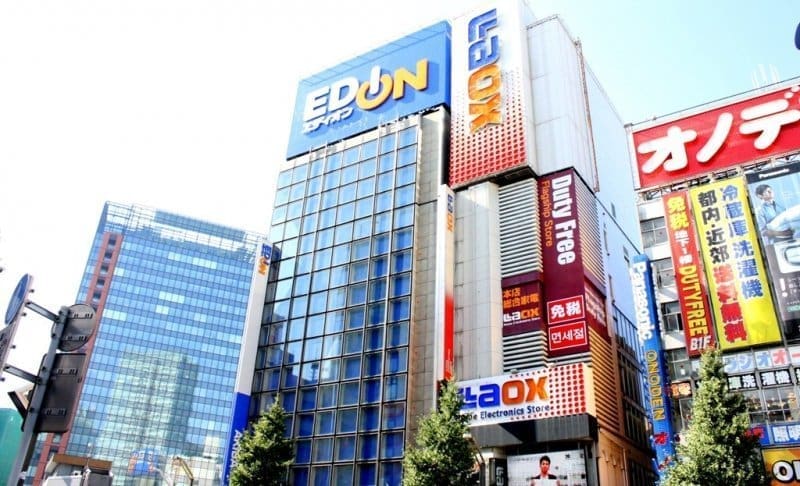 Edion AKIBA is a flagship shop of Edion, a massive electronics retailer with 760 locations around Japan. The famous blue structure near the Manseibashi intersection is also Edion AKIBA.
They sell fashionable technology, such as computers and tablets, as well as health and cosmetic items. The selected electrical products that foreigners really enjoy are lined up on the first floor.
Location: Denkigai Exit of Akihabara Station is 3 minutes away. See more.
5. LAOX Akihabara Main Store – Electronics stores in Tokyo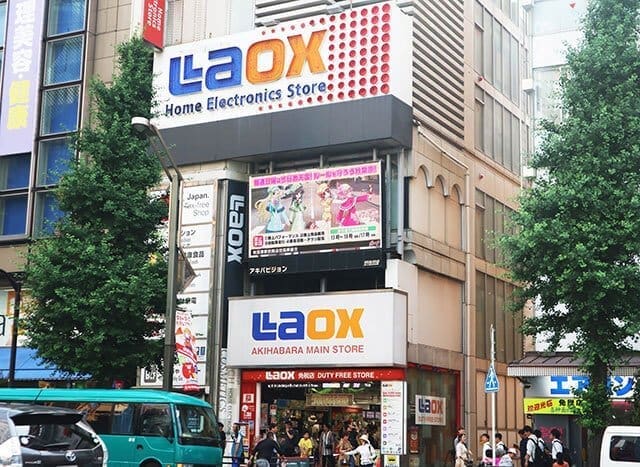 LAOX Akihabara Main Store is one of the most popular shopping destinations for international travelers in Japan. They choose items primarily for individuals from other countries and have a large number of multilingual employees.
There are around 70 thousand products, including electronics and video games and a wide range of items such as jewelry, wristwatches, and other accessories.
Electric items are offered on a couple of the store's seven floors. Their merchandise is chosen to satisfy the demands of international visitors.
Currency exchange machines and a tourist information center are also available. JNTO has approved LAOX Akihabara Main Store as a Tourist Information Center (Japan National Tourism Organization). The store's concierge can provide tourist information in both English and Chinese.
Location: Denkigai Exit of Akihabara Station is 2 minutes away. See more

---
What did you think of this list? Do you know any other electronics stores in Tokyo that we haven't mentioned? If so, please share it in the comments to include it.
We hope you get the most out of your electronics purchases in Japan.
Until next post.
Sayōnara (さようなら)